"

Bachmann's music blends meaty chunks of blues, country, honky tonk, and other rootsy sounds create an enticing sonic concoction of Americana... "
— Phoenix New Times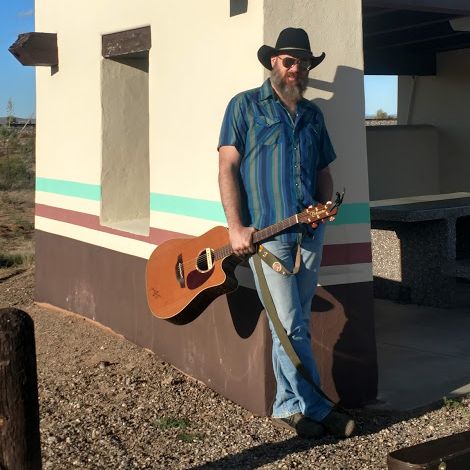 Jim Bachmann
Sonoran Desert soaked, good-timin' stonerbilly
Arizona singer-songwriter Jim Bachmann believes his career began when his Air Force enlisted father met his mother at a backwoods honky tonk in the wilds of upstate New York, where his grandfather played a four hour gig four nights a week with his family band. The die was cast in familial bonds, handed down guitars, and country music.

Bachmann has been entertaining the Phoenix scene over the past decade, sharing the stage with heroes and friends such as Billy Joe Shaver, Whitey Morgan and the 78's, Dallas Moore, Shinyribs, Reckless Kelly, The SteelDrivers, Ramsay Midwood, Mike and the Moonpies, Jeremy Pinnell, Paul Cauthen and more.

Raised in the saguaro and creosote dotted Sonoran Desert lends a unique definition to Bachmann's sound. Described as "Stonerbilly" in the Arizona press, Bachmann's music is an amalgam of American roots music that deftly blends traditional country, honky tonk and blues with echoes of the regional Mexican-influenced sounds wafting up from the nearby border. Bachmann has crafted a new milieu while staying true to country music traditions. His mellow, easy voice imparts wise lyrics that hint of a life of honest living, blending autobiographical nuance and a wistful, sly sense of humor evoking Tom Waits and John Prine.

With the release of his new single, "Sitting Down Under the Moon," Bachmann conjures the relentless desert heat breaking like a high fever into the woozy, cooler summer nights. Enlisting steel player Jon Rauhouse (Neko Case) and drummer P.H. Naffah (Roger Clyne and The Peacemakers), Bachmann creates new sonic vistas, floating shimmering acoustic guitars and reverb-soaked electrics over a slithering groove and punctuated by psilocybin-laced steel guitar lines recalling American Beauty-era Grateful Dead.